"Enjoying this so, so simple breakfast was one of the moments which led to setting up Hampshire Table. I felt that I was eating some of the best food in the world. As I ate it, I could picture the hens running around on John and Jacky's farm and the smell of fresh bread in Darren's bake house. Please note, this recipe will just not be the same with supermarket ingredients."
Boiled eggs & buttered toast, serves two 🍞🍳
Ingredients: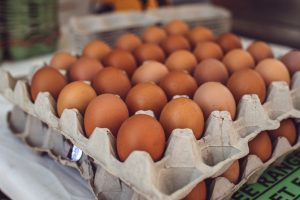 A pat of South Downs butter
Two thick slices of sourdough
Maldon salt flakes
Black peppercorns
Method:
Bring a large pan of water to the boil
Prick a hole in the round end of the eggs, this will reduce the risk of them bursting open in the water.
Pop the eggs in the pan for five minutes, the yolks will still be runny and the whites barely set
Meanwhile, toast and butter the bread, and crush a few peppercorns and scrunch the salt flakes with your fingers
Serve with a mug of tea and good company
Recipe suggestion:
When in season, serve with griddled asparagus spears.
Recipe by Hampshire Table, find them at Winchester, and many other markets!