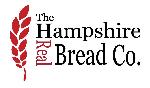 The Hampshire Real Bread Co.
1A Hartwood Gardens, Waterlooville, Hampshire PO8 8RA
Telephone:07875552012
Email:info@hampshirerealbread.co.uk
Website:hampshirerealbread.co.uk
The Hampshire Real Bread Company is run by Darrin Romp, a self-taught home cook and baker, and operates from his home in Waterlooville, Hampshire.

Darrin is passionate about providing quality bread and pastries made with organic flours.
The Hampshire Real Bread Company offer a range of breads, including sourdoughs, speciality yeasted breads, French & Italian breads, croissants, pastries and artisan doughnuts. Come find them at your local Hampshire Farmers' Market!
Click here to see which markets we are attending.