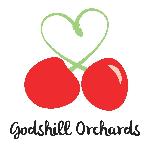 Godshill Orchards
Godshill, Isle of Wight
Telephone:
Email:
Website:www.godshillorchards.co.uk
Godshill Orchards grow fruit with love on the southern slopes of the Isle of Wight. All our fruit is handpicked to bring you only the very best produce.
We grow a selection of Cherries, Apricots, Green Gages and Plums. We also have a range of products made with the fruit, such as jams and juices
Click here to see which markets we are attending.