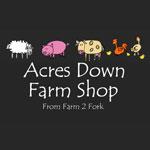 Acres Down Farm Shop
Lyndhurst, Hampshire
Telephone:
Email:
Website:www.acresdownfarmshop.com
Acres Down Farm & Shop is a busy New Forest Commoners working farm, depasturing animals according to commoning rights of the Ancient Royal Forest. Keeping beef cattle, pigs, sheep and chickens, we are using traditional farming methods in harmony with nature to provide the unique "not on the high street" taste experience.
Our shop is also a culinary treasure trove; stocked full of many great local and regional products, that we have taken great delight in hunting out ourselves!!
Visitors to the shop can enjoy a relaxed environment as they browse the wide selection of goods on sale. To complement our meat, we also have vegetables, cheeses, chutneys, jams, marmalade, honey, bread flours, sauces & stocks, cakes biscuits and ice cream.
We are keen to support other small, independent producers like us.
Click here to see which markets we are attending.