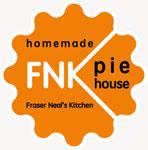 FNK
24 Nightingale Close, Rowland's Castle, Hampshire PO9 6EU
Telephone:02392 413680
Email:FNKpies@gmail.com

Neil is a chef who has decided to start to bake and sell pies at Farmers' Markets. FNK bring a variety of their award winning savoury treats, such as hot sausage rolls, scotch eggs and eight different flavours of pie.
SAVOURY PIES: Steak and Kidney Pie, Hampshire Steak Dan Pie, Christmas Pie, Moroccan Lamb and Spinach Pie, Lamb and Rosemary Pie.
Now offering vegan options including their Great Taste Award winning, Cauliflower, Fennel and Pea Tagine.
Click here to see which markets are we attending.