December is upon us… and we can all agree that we deserve something extra special this festive season.

At this month's Hampshire Farmers' Markets our members are pulling out all the stops to help you prepare for Christmas. If you're looking for inspiration for gifts, something a little different for Boxing Day lunch or a new tipple for toasting, keep on reading…
1. Pick up a fabulous fir
There's nothing like the smell of the Christmas tree is there? Meon Valley Christmas Trees will be at Winchester on the 29th, Romsey and Petersfield on December 6th, Alton on the 12th and Winchester on the 13th. Meon Valley have been growing Nordmann firs in Hampshire for 20 years. This particular species is a firm favourite because they hold their needles.

Which means your Meon Valley tree will look good well into New Year. Prices start from £30.
2. Stock up on tipples
What time is the right time on Christmas Day to open a bottle of something fizzy? With breakfast, right? Hampshire has some of the best English Sparkling wines and Ashling Park Vineyard will be at this month's markets. Alongside their single bottles of wine, they will be offering a duo set of their Trophy winning Cuvée and Sparkling Rosé for £55 (a £6 saving). Real ale drinkers will love a bottle (or two) of Saxon Bronze from Alfred's Brewery and for those who enjoy a G&T with the Queen's Speech, Silent Pool will have a variety on offer and try. Enjoy a mulled cider from Dreymans and for the designated driver – treat them to a cold glass of delicious Hill Farm Apple Juice.
3. Practice Your Christmas Cocktails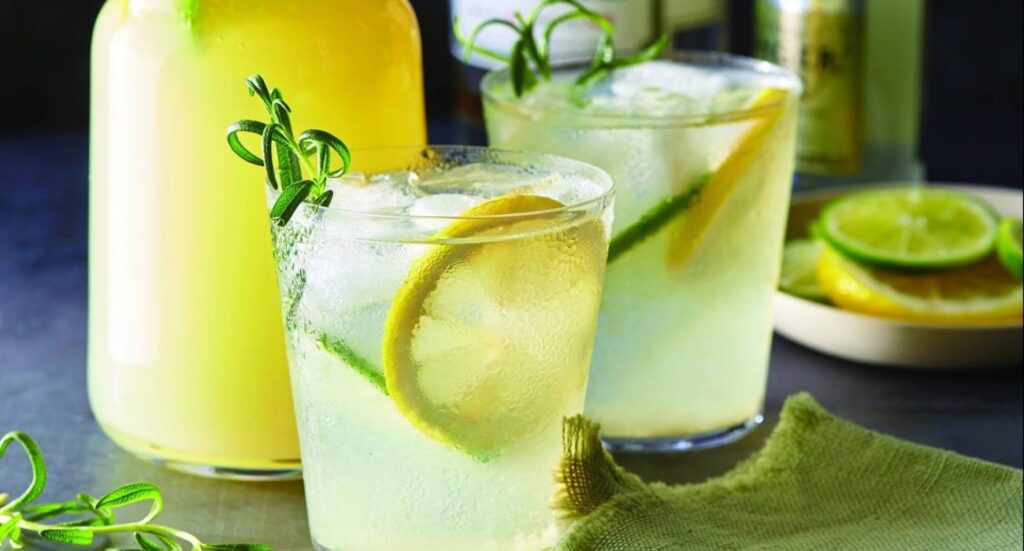 Lainston's Andy MacKenzie shares his very own recipe for a delicious Gin Fizz…

Ingredients:
Elderflower Gin Fizz
50ml Silent Pool gin
30ml Elderflower syrup
Juice of half a Lemon
Sparkling wine (Ashling Park Vineyard)
A sprig of lemon verbena or a twist of Lemon zest

Method:
Pour the Silent pool gin, elderflower syrup and lemon juice in a shaker and combine. Pour into glasses and top with chilled sparkling wine. Garnish with lemon Verbena or lemon zest and serve immediately.
4. Meats For Your Mains
5. Gift Shopping All Wrapped Up
Chocolates, sparkling wine, jams and chutneys, candles… whoever you are buying for, a trip to the market will soon have their stockings filled.

Friends with a sweet tooth will love a box of brownies from Harvest View Brownies (pictured top left). They come in gift boxes of six and must be pre-ordered (£16). Keep an eye out for their hot chocolate stirrers too for £2.50 each.

How about some handmade soap, created with essential oils and herbs? Blue Leaf Soap Ministry (above right) have a fantastic range on offer, including Kanaan and the Christmassy Myrrh and Frankincense. Just follow the lovely smells and you'll soon find their stall.

Fordingbridge Fudge (above left) will be bringing the flavours of Christmas to the markets too, with bags of options for fudge fans. They make the perfect stocking filler for the grand children or as an after dinner treat with coffee.

There are so many more gift ideas at your local farmers' market… pop along to get your Christmas shopping sorted.
6. Be prepared with a festive Gammon joint
Serves 8-10
Gammon Ingredients
3kg Ambrose Sausages boned and rolled Gammon
1 medium onion peeled and quartered
2 carrots halved
1 leek halved
2 sticks celery
½ tsp whole cloves
2 tbsp coriander seeds
1 teasp black peppercorns
3 bay leaves
Water or vegetable stock
1 x litre Dreymans Cider ( or a mix of apple juice and cider)

Cloves – for the fat after cooking.

Glaze:
3 tbsp of Mrs B Honey
75g dark muscovado sugar
1 tbsp balsamic vinegar
2 tbsp Dijon mustard
½ tsp ground allspice
½ tsp ground cinnamon

Method:
Put the gammon in a large saucepan; nestle the vegetables around the gammon, add the spices. Pour in the cider, and enough stock or water to cover the gammon. Bring to the boil, reduce the heat and simmer gently for approx. 2 hours. Skim off any impurities, topping up the water as necessary. Remove from the heat and leave to cool in the liquid for 1 hour.

Line a roasting tin with foil. Heat oven to 190C/180C fan/gas 5. Remove the joint from the liquid, drain and place in a roasting tin. (You can use the stock for soups.) Pat it dry with some kitchen paper. Remove the ties around the gammon and carefully trim away the skin, leaving an even layer of fat. Score all over in a diamond pattern and stud with cloves.

Mix the glaze ingredients together in a bowl. Brush half the mixture over the gammon, then bake for 15 mins. Brush on another layer and bake for another 15 mins or until golden and sticky. Rest for 15 mins before slicing, eat hot or cold with a selection of Hampshire Chutneys, over the next few days.
7. Game on
Turkey, pigs in blankets, beef wellington, gammon, nut roast… there are all the 'usual' options for Christmas or Boxing Day dinner. Or this could be the year to change the menu. HFM's game producers will be at December's markets with plenty of alternatives. Both Newhouse Game and Hampshire Game will be selling pheasant, partridge, venison, pigeon and rabbit. Take a look at the HFM website for a cooking demo on how to prepare and cook your venison this Christmas.
8. Andy MacKenzie's top turkey tips
Fill the cavity of the turkey with whole peeled onions, apples and thyme 
Bring your turkey to room temperature before putting in the oven
Rub the turkey all over with butter and rapeseed oil also season well with salt and pepper 
Cook your turkey on a bed of chopped onion, carrot, celery & leek 
First put your turkey in a pre heated oven at 220c for 30 minutes then take the bird out of the oven and baste with the roasting juices now place 8-10 rashers of streaky bacon over the top of the bird reduce the oven temperature to around 170c and continue cooking 
Work roughly on 15-20mins cooking time per 450g of turkey 
Use a probe to measure the temperature of the turkey do this at the thickest part of the bird the temperature should get to around 69c however when you bring the bird out of the oven to rest the temperature will continue to rise to over 74c this is when it is safe to eat 
Check the temperature every 15- 20 minutes so you can see how close to being done the bird is 
Rest your turkey for at least an hour, place some tin foil over the top of the bird to retain the heat 
Use the roasting juices left in the roasting tray to make your gravy 
9. Indulgent afters
Following so many courses with a cheeseboard may feel like an insurmountable feat, but we simply must have something to accompany the obligatory glass of port. This December our HFM cheese producers will have a plethora of varieties to tempt you to stay at the dinner table. How about Lyburn Farm's Lightly Oak Smoked or the ever-popular Old Winchester? For something a little softer, head to Beau Farm's stand for a pack of goats' cheese. Choose from Brie or feta alongside their harder Gouda. One of HFM's newest members Four Brothers Cheese will be selling their brandy-washed Pippin soft cheese at this month's markets and Ellie's Dairy will be bringing their latest goat's cheese, Fremlin's Kentish Log. Don't forget the chutney and pickle –  see our list of prodcers.
10. Festive layered savoury pie by Davina Tibbetts
Serves 8-10
2 pks x 375g ready made puff or shortcrust pastry
500g Ambrose Sausagemeat
3tbsp Hampshire Tomato Chutney
2 tbsp parsley chopped finely
1 tbsp fresh thyme
1 tsp dried sage
2 lemons (zest only)
250g cooked turkey breast
4 slices cooked gammon
1 medium egg beaten

20cm/8in deep pie dish
Pre heat oven to 190C/ Fan 170C/Gas mark 5

Method
Mix together the sausagemeat, chutney, parsley, thyme, lemon zest and sage. Roll out one pack of pastry and line the base and sides of the pie dish.
Place half the sausagemeat mixture on the base of the pastry and spread evenly. Layer the turkey and gammon on top.
Place the remaining sausagemeat on the top, covering the turkey and gammon.
Roll out the second pack of pastry, trim to fit the top of the pie.
Brush the sides of the pastry with beaten egg, top the pie with the pastry, press the edges together to seal the pie.
Make a small hole in the centre of the pie.  Brush the top with the beaten egg, use any left over pastry to decorate the top.
Place the pie dish on to a preheated oven tray, bake for 45 – 50 mins, until the pastry is golden on top.
Leave to cool for 10 minutes. Serve warm with seasonal vegetables or cold with a salad.
11. Cheers to New Year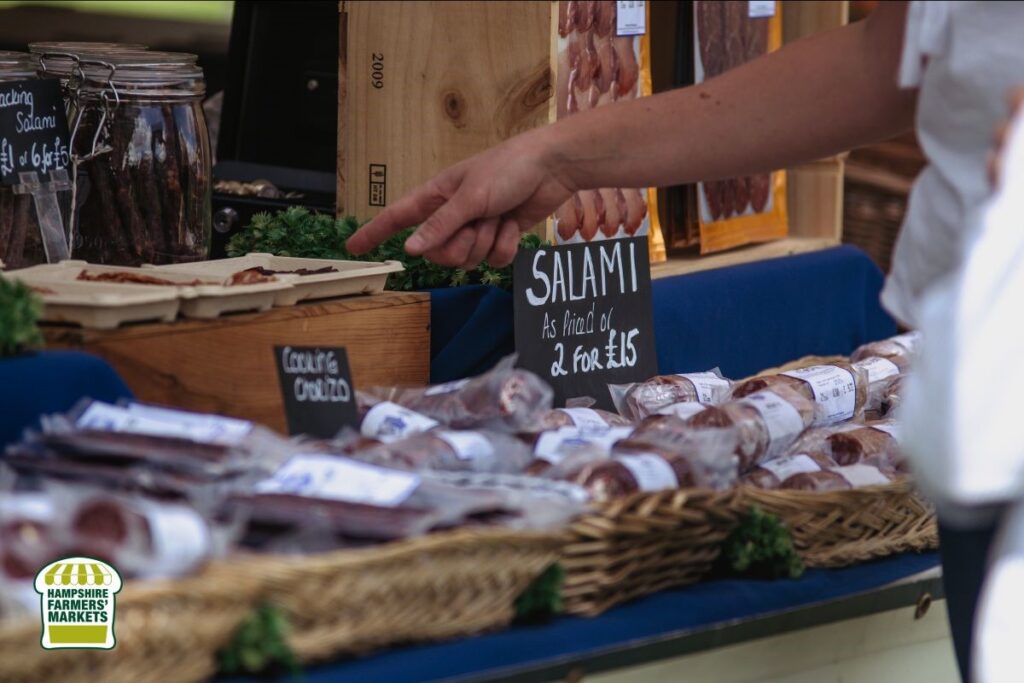 Let's face it, we'll be glad to see the back of 2020. The chances are we may be celebrating with our own households, but that's no reason not to give the year a proper send off. Instead of standing over the stove all New Year's Eve, how about a buffet of Hampshire Farmers' Markets delights? Pick up some delicious charcuterie from Ambrose, as well as pastries from Love2Eat or Mud Foods. Try some salmon pate from Catch Fabulous Fishcakes or something smoked from New Forest Smokery and Trout Farm. Dip some cranberry & walnut, Stilton & cranberry or chestnut & truffle bread from Beres Bakes into a selection of flavoured oils from The Cold Pressed Oil Company or trout pate from Butler Country Estates. Let's not forget for the fizz at midnight. Ditch those French Champagnes and look to the rolling Sussex and Hampshire downs for a bottle of something extra special. Ashling Park Vineyards will be bringing plenty of stock to fill the fridge on the 31st.
12. Not forgetting vegetarians
Whether it's a salad for a Boxing Day buffet or veggies for Christmas dinner, Glasshouse Salads will be at Emsworth market on the 19th with everything you need. At other markets in the county, T&V Vegetables will be on hand at Petersfield, Winchester and Southsea and The Tomato Stall will be at Romsey, Winchester and Southsea. As a meat alternative on Christmas Day, a must-try is any of Catch (Fabulous Fishcakes) IOW fishcakes. Try the award winning Crabbie Crabcakes or Mac 'n' Hari from Romsey's markets this month. Also at Romsey, as well as Winchester and Alton will be Kerri's Catch. The perfect opportunity to pick up some fresh, delicious shellfish. There's smoked fish too, from the New Forest Smokery and Trout Farm.
Sweet treats
Christmas simply wouldn't be Christmas without an abundance of delicious sweet delights. Our cake and pastry producers get up nice and early to bring only the freshest, tastiest treats to market. Don't leave this December without a yule log from Berceries, Christmas cake from A Basing Bakes, mince pies from Pure Delights, brownies from Citrus Tree and cupcakes from Butter Sugar Flower.
We hope you enjoyed our ideas on how to have a Hampshire foodie Christmas. Thank you to all our customers for your continued support through what has been a tough 2020 for us all.
Peace and goodwill to you all and see you in 2021.
Merry Christmas!