You could buy your other half a box of Milk Tray, bunch of red roses or bottle of aftershave/perfume this Valentine's, but how about a gift from their favourite Hampshire producer? Or perhaps a home-cooked meal using the very best, local ingredients?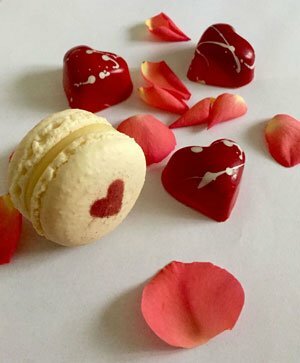 There are plenty of opportunities in the run up to the 14th to discover what's on offer at the markets. Plus you can rest assured that all the produce is made in Hampshire using locally sourced ingredients.
Whether it's an after dinner treat or way of saying 'Be My Valentine', chocolate will get the message across.
The Hampshire Confectioner has recently become a member of Hampshire Farmers' Markets and owner/chef Tyrone will have lots on offer for those looking for gifts in Winchester on the 29th January and Alton on the 11th of February. How about a selection of milk and dark salted caramel hearts and strawberry ganache filled hearts? All in Valentine's themed boxes. The price for 12 chocolates is £9.95 and £18.50 for 24. There will also be a selection of vanilla and raspberry macarons, with dusted love hearts on the white ones, costing £5.95. All of the Hampshire Confectioner's products are handmade by Tyrone using a variety of locally sourced fruit, liqueurs and dairy.
Share a glass or two of Silent Pool gin after a romantic dinner. The distillery, based at Albury, produces a delicious English Rose Finest Gin (£30) and Limited Release Strawberry Gin (£20) on sale alongside their award-winning signature gin (£35). There's plenty of opportunity to pick up a present as they are in Winchester on the 29th of January and 12th February, as well as Petersfield on the 5th of February and Alton on the 11th.
If you can't make it to Winchester on the 29th then a couple of days before, Michelle Mason will be on the High Street on the 12th, selling her delicious chocolates. The boxes of six (£5.50), 12 (£10), 24 (£18) or 48 (£33) are all handmade by Michelle in East Stratton, using no artificial flavours or preservatives.
Also at Winchester on the 12th will be Choose Chocolate. Founder Sarah Champion began creating delicious bars and sticks at the start of last year and customers at Hampshire Farmers' Markets make return visits just to pick up her 'perfect sized bars to satisfy a chocolate craving'. All of her sticks from the 'Hampshire' range are made from ingredients grown or produced in Hampshire. A 10-stick box costs £15; four-stick box £6.50 and single sticks are £1.75 each.
Don't forget, if you're looking to cook a romantic meal for two to pick up your ingredients from any of the markets for the first two weeks of February.