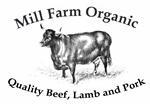 Mill Farm Organic
Mill Farm, Isington, Alton, Hampshire GU34 4PN
Telephone:01420 22331
Email:info@millfarmorganic.com
Website:www.millfarmorganic.com
Traditionally run family farm producing exceptional quality beef, lamb and pork. Mill Farm is set in idyllic Hampshire countryside on the banks of the River Wey.
We farm to Soil Association Organic Standards, working with nature to produce the best results rather than trying to conquer it. We use no chemical fertilisers or pesticides.
At market we sell a range of organic beef, lamb, sausages and burgers, Sausage rolls and wool fleeces.
Click here to see which markets are we attending.