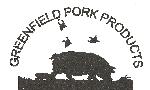 Greenfield Pork Products
Sunnycliff, Highbury Road, Anna Valley, Andover, Hampshire SP11 7LU
Telephone:01264 359422
Email:martinanddawn@greenfield-pork.co.uk
Website:www.greenfield-pork.co.uk
All our pigs are born and reared outside in spacious paddocks which allow them to behave naturally and to grow in conditions which provide fresh air, natural daylight, exercise and of course the minimum of stress.
Our aim is to produce a quality pork carcase of 50–60 kg dead weight providing small joints with modest amounts of fat. The 'Hampshire' breed provides well marbled and succulent pork with glycogen in the muscle providing sweetness and flavour.
Our bacon pigs are taken a little heavier and only gilts (females) are used as we find they make the best quality bacon and ham.
Which markets are we attending?