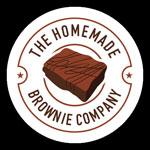 The Homemade Brownie Company Ltd
Basingstoke, Hampshire
Telephone:
Email:
Website:homemadebrownie.co.uk
The business was founded by Laura Bland. Laura began baking many years ago whilst away from work and bringing up her 2 sons at home. Before long she was supplying birthday cakes, wedding cakes, cupcakes and chocolate brownie to family and friends.
Through word of mouth referrals and recommendations, Laura's hobby grew into an accidental business. The variety of creations within Laura's baking portfolio continued to expand but there was one product which her customers couldn't get enough of; her homemade chocolate brownie. With the encouragement and help of family and friends, Laura decided to make her product available to a wider audience through an online store and in 2016 The Homemade Brownie Company was born!
Click here to see which markets we are attending.