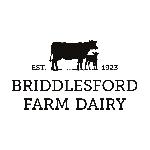 Briddlesford Farm Dairy
Briddlesford Road, Isle of Wight, Wootton, PO33 4RY
Telephone:07810 202 910
Email:izzy@briddlesford.co.uk
Website:www.briddlesford.co.uk
"Our Great Grandparents started dairy farming at Briddlesford in 1923. They walked across the downs and arrived with 15 Guernsey cows; all of our 150 cows today are descendants of the original 15. The farm is still run by 3rd and 4th generations of Griffins. In order to keep the farm as we decided to invest in a processing plant. We now bottle and sell all our milk and cream and make cheese and butter."
Briddlesford Farm Dairy bring their butter, milk, cream and range of delicious cheeses to markets throughout the county. Including Cheddar, Gouda, Caerphily, Feta and more!
Find them regularly at our Petersfield, Emsworth and Winchester markets.
Click here to see which markets are we attending.