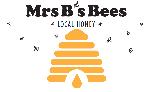 Mrs B's Bees
Alton, Hampshire
Telephone:
Email:
Website:www.mrsbsbees.co.uk
Mrs B's Bees is a small family business. They currently run approximately 200 hives throughout Hampshire, Surrey and Sussex. Only honey which is surplus to the bees' requirements is harvested. All honey is harvested individually from each apiary and labelled with their location enabling customers to buy a honey that really is local to them.
Sites are chosen based on their unique benefit for the bees. Each have something special for them to work. Each season they also take around 35 - 40 hives to the New Forest where they harvest a crop of heather honey for which they have won National Honey Show awards.
All the wax products are individually made from their own beeswax and are made by themselves on a small scale, each with an individual natural aroma of honey.
They have a variety of honey, beeswax candles, including traditional dipped candles, furniture polish and beeswax wraps available to purchase at the market or online.
Click here to see which markets we are attending.