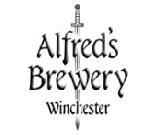 Alfred's Brewery
Winchester, Hampshire
Telephone:
Email:
Website:www.alfredsbrewery.co.uk
An independent brewery located in Winchester, Alfred's Brewery is a family business run by Wintonian Steve Haigh.
Steve produces a range of high quality ales in a small brewhouse within half a mile of the historic city centre.
Years of hard work and the fine-tuning of unique recipes has resulted in award winning flavours that can be enjoyed by those who visit the brewery shop, and from a growing number of local pubs who serve the beer.
Click here to see which markets we are attending.