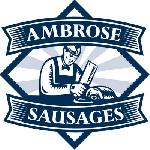 Ambrose Sausages
64 Stoke Common Road, Bishopstoke, Eastleigh, Hampshire SO50 6DU
Telephone:02380620984
Email:sue@ambrosesausages.co.uk
Website:www.ambrosesausages.co.uk
Ambrose Farm products include an array of handmade, traditional & speciality sausages, each created using their own freshly blended seasonings.
"From our farm at Upham, we produce some exceptionally good tasting free range pork. Rare breed pigs are born, reared and spend their entire lives with us, growing naturally and slowly.
...mouth watering dry cure bacon, pancetta or pork cuts, which are juicy, full of flavour with excellent crackling. Other delights include cooked Faggots, Scotch Eggs, Haslet, and Black & White Puddings. Our aim, fabulous pork products! Fabulous service!"