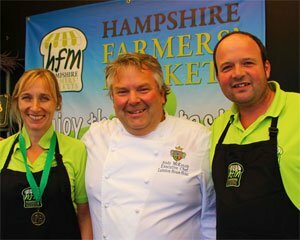 As a conclusion the Hampshire Food Festival Month the Hampshire Farmers' Market has organised a special day to celebrate the abundance of the season's local produce. Renowned Executive Chef Andy MacKenzie of Lainston House Hotel will be making a return visit to the Hampshire Farmers' Market at Winchester on Sunday 28th July. Andy's highly skilled and entertaining demonstrations will be one of the attractions for visitors to the market to enjoy, with Andy producing a wide range of delicious dishes using great seasonal food from the HFM producers stalls.
Home Economist Davina Tibbetts will also be showing visitors to the market how to create summer style salads with New Forest smoked fish, plus a veggie roulade and a light summer pudding.
Two HFM producers will also be showing how to make some interesting dishes, ideal for the summer weather and making the most of the season's abundant harvest including Dwayne Bartrum from Perfect Pickles cooking up veggie bits courgette frittata, broad bean and mint cakes. The award winning Lyburn Cheese will also focus in Judy Smales demonstration.
There will be further fun with Andy Mackenzie's Omelette Challenge, with HFM Business Manager Alex Handford defending her title from last year and then a second round with another HFM producer to decide the overall champion for 2013.
Buskers will add to the vibrant market atmosphere and Kidsrome Animal Farm (petting farm) will be on site for the children to enjoy.
As the country's largest farmers' market, the Winchester market has over 90 regular stalls selling a huge range of local, in season, fresh produce with visitors able to sample some of the foods and talk directly with the producers. There is also a wide range of 'food to go' available including a Hog Roast, Water Buffalo Burger stall, Breakfast Baps and a coffee stall.
The market opens at 9 am until 2 pm and is located in Middle Brook Street and Middle Brook Street Car Park.
HFM is a not for profit, community interest organisation supporting local producers, rural jobs and helping to protect the environment through reduced food miles. www.hampshirefarmersmarkets.co.uk
ENDS
Download Word Doc

Picture Captions:
Top Chef Andy MacKenzie from Lainston House Hotel with Alex Handford, HFM Business Manager (left) and Toby Bowtell, HFM producer at the HFM Winchester market.
Andy MacKenzie , Executive Chef from the Lainston House Hotel, demonstrating how to make the most of local produce. In the HFM demonstration kitchen.
For further information on this release, images or to arrange an interview contact Lynda Lawrence PR on 01420 87489 lynda@lyndalawrence.co.uk or contact Alex Handford on 07909 521745.
Editors Notes
For more information on this press release, please contact Alex Handford (Business Manager) or via email to: alex@hampshirefarmersmarkets.co.uk
Hampshire Farmers' Markets website can be found at https://www.hampshirefarmersmarkets.co.uk.
Hampshire Farmers Markets is a community interest not-for-profit limited company.
Hampshire Farmers' Markets are certified to the National Farmers Retail and Markets Association – FARMA