GREAT HAMPSHIRE SAUSAGE AND PIE CHAMPIONS 2019 REVEALED

Local butchers and producers gathered at the Holiday Inn near Winchester on Wednesday 20th February for the much-anticipated results of the Great Hampshire Sausage and Pie Competition 2019, organised by Hampshire Fare.
This year's competition attracted an impressive 205 entries in 12 categories which were judged by a panel of experts from across the UK. The categories included Traditional Pork Sausage, Hampshire Sausage, Black Pudding, Hot Pie, Charcuterie, Meatballs and Faggots, Speciality Sausage, Home-cured Bacon, Cold Pie, Young Sausage Maker and Traditional Pork Pie.

Judging took place earlier in February at Eastleigh College with the assistance of staff and students from the college's hospitality and catering department. Tracy Nash, Commercial Manager of Hampshire Fare commented: "This competition is key in highlighting the talent and dedication of the hardworking butchers and producers in Hampshire. It is an opportunity for us to put local butchers centre stage and appreciate their skill and knowledge. I urge everyone to make it their mission to visit at least one of these award-winning butchers and try some of the excellent products celebrated here tonight."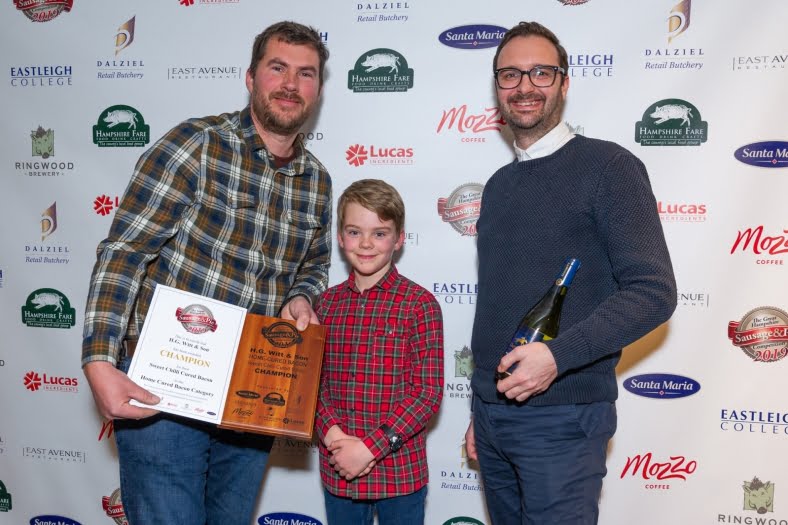 Before the winners were announced, guests tucked into sausages and mash to fit with the theme of the evening! The winners of each category were invited to the stage by Peter Taylor from Paris Smith LLP to receive their trophy from the competition sponsors – Dalziel, Lucas Ingredients, Eastleigh College, Mozzo, Santa Maria and Ringwood Brewery.
Category Champions
Young Sausage Maker Champion 2019
James Collin from Uptons of Bassett, Southampton
Bloody Mary Sausage
Presented by Steve Derrick from Lucas Ingredients

Hot Pies Champion 2019
Mum & Dad's Kitchen, Southsea
Gluten Free Chicken, Ham and Leek
Presented by Jodie Ringer from Ringwood Brewery

Home-cured bacon Champion 2019
HG Witt & Son, Fordingbridge
Sweet Chilli Cured Bacon
Presented by Matt Benn from Mozzo Coffee

Traditional Pork Pie Champion 2019
Crow Farm Shop, Ringwood
Presented by Sam Guarino from Santa Maria
Meatballs & Faggots Champion 2019
Weyhill Farm Shop, Weyhill
Faggots
Presented by Colin Armstrong from Dalziel
Cold Pies Champion 2019
Mum and Dad's Kitchen, Southsea
Gluten Free Egg, Bacon and Chorizo
Presented by Steve Derrick from Lucas Ingredients

Black Pudding Champion 2019
Uptons of Bassett, Southampton
Presented by Danny Wilkinson from Dalziel

Hampshire Charcuterie Champion 2019
Stag and Bull, Test Valley
Wild Venison and Sloe Gin Biltong
Presented by Sam Guarino from Santa Maria

Traditional Pork Sausage Champion 2019
Solent Butchers, Southampton
Presented by Jodie Ringer from Ringwood Brewery

Speciality Pork Sausage Champion 2019
Newlyns Farm Shop, Hook
Smokey Joe
Presented by Lucas Ingredients and Dalziel

Lamb/Beef Sausage Champion
HG Witt & Son, Fordingbridge
Beef and Sweet Chilli
Presented by Mozzo and Santa Maria

Hampshire Sausage Champion 2019 – Hampshire Fare Trophy
Greenfield Farm Shop, Andover
The Braishfield Banger
Presented by Mike Wright, Chairman of Hampshire Fare
Innovative Product, selected from all the entries.
Uptons of Bassett
Top and Tail Pie made with Ox Cheek and Ox Tail.
From these category winners just one product was singled-out by the judges as the very best entry across the whole competition. The Supreme Champion 2019 was presented by MasterChef Winner 2016, Jane Devonshire to:
Supreme Champion 2019
Mum and Dad's Kitchen for their Egg, Bacon and Chorizo gluten free pie.
Owned by husband and wife team, Jane and Dave Endean, they began by baking cakes before creating their award-winning gluten free pastry which one of the judges described as possibly the best pastry they had ever tasted.
Dave Endean commented on their success: "We are so surprised by the win! It is just brilliant! We are really proud that our gluten free pastry has ranked so highly against standard pastry, it proves that opting for gluten free doesn't have to be a compromise."
The event was sponsored by Lucas Ingredients, Dalziel, Santa Maria, Eastleigh College, Mozzo and Ringwood Brewery. The competition was also supported by Holiday Inn Winchester, New Forest Water and Danebury Wine.
For a full list of Gold Award winners and other competition news, visit the Hampshire Fare website, www.hampshirefare.co.uk.