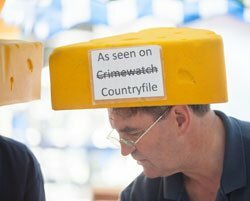 Following on from one of the warmest summers and the lingering 'Indian' summer leading into October, the Hampshire Farmers' Markets has had a busy year of celebrating its 15th Anniversary,  producer awards and a hugely successful year to date – with all of the HFM markets across the county attracting large numbers of visitors enjoying the colourful produce and characters they find there.
"Our market visitors really enjoy meeting our producers and knowing that the vegetables for example that they are buying on the day are as fresh as they can be, often picked just the day before the market," commented Alex Handford, Business Manager of the Hampshire Farmers' Markets.  "They love the freshness, traceability and range of produce they can buy at our markets, often things they cannot get anywhere else.  We are also seeing a growing awareness by our visitors that they can buy exceptionally high quality food from our markets at affordable prices."
The Hampshire Farmers' Markets holds regular monthly markets at The Furlong Ringwood every third Saturday of the month from 10 am – 2pm, which offers a wide range of local award winningproduce with excellent for entertaining, the  festive season and to give as gifts.  There are three award winning cheese makers at each HFM Ringwood market, plus producers of venison, game, pies, cakes, bread, chutney, pickles, fruit, vegetables, plants, locally produced wines, fresh sea fish and smoked trout, plus delicious food to go options.
Also visitors to the market can order and collect their Christmas meats – ham, pork and turkey direct from the producers.
Great British Game Week runs from 24th – 30th November.   The Ringwood market on the 22nd November is an ideal time to stock up on delicious venison, rabbit and other game to make wholesome, hearty winter warming casseroles and stews.