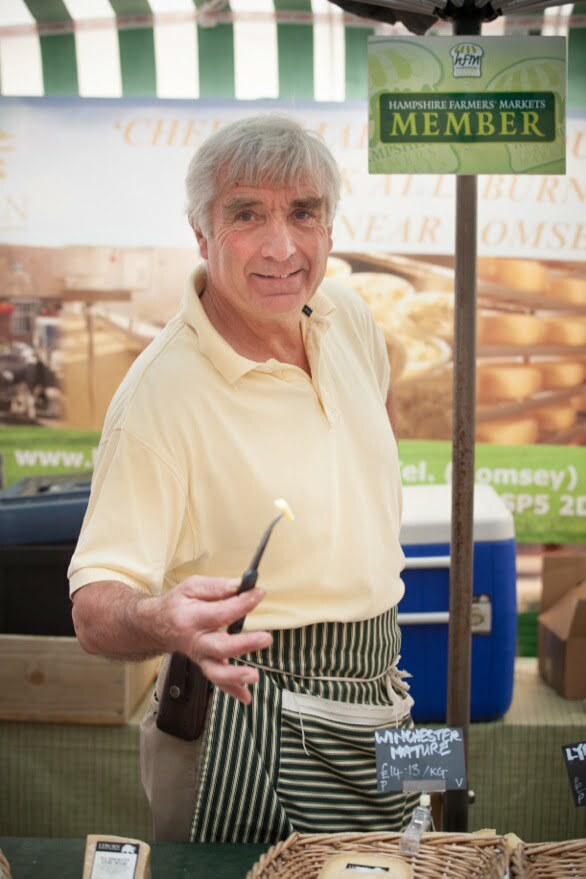 Hampshire based Lyburn Farmhouse Cheesemakers, a Hampshire Farmers' Markets producer, has  been awarded a Super Gold Award and a Silver  Award at the World Cheese Awards, recently held at the BBC Good Food Show in London.
With close to 2600 entries from cheese makers around the world , Lyburn Farmhouse Cheesemakers faced tough competition within their individual classes, but its popular Old Winchester cheese achieved the top Super Gold Award and their Stoney Cross cheese picked up a Silver Award.
Mike Smales of Lyburn Farmhouse Cheesemakers commented on the award: "It was great to make it to the top table for final judging and this time we got a top award with the Super Gold.  It is the culmination of fifteen years of hard work.  It is nice to create a product that is appreciated and enjoyed and is a good product that has earned its place."
Mike and Judy Smales have been involved with the Hampshire Farmers' Markets since its inception in 1999 and Mike Smales commented: "When we first began to produce cheese using milk from our dairy herd, as a small producer the Hampshire Farmers' Markets gave us that first rung on the ladder to get our produce to market.  We did that fifteen years ago and if we hadn't had that we would not have achieved so much."
"The Hampshire Farmers' Markets not only gives us immediate cash-flow, it also connects us directly to our customers, with many coming to our stall, at the HFM markets we attend across the county, since we began.  We get to know them, their families and build up a rapport and they bring their children along who also get to taste and choose the cheeses they like, have a different shopping experience and enjoy the market atmosphere."
Hampshire Farmers' Markets Business Manager Alex Hanford said: "It is wonderful to see so many of our producers winning awards and to see that Lyburn Farmhouse Cheesemakers is recognised as one of the leading cheese makers in the world.  The cheeses they produce are very popular with our market visitors and we are all thrilled to see them winning two top awards including a Super Gold which is a great achievement."
Lyburn Farmhouse Cheesemakers is very much a family concern with Mike Smales running the cheese production, son Jonathan managing and caring for their dairy herd, while wife Judy manages the business side.  They produce 7 different cheeses and are investing in more production to meet demand.
Old Winchester cheese is a harder cheese that is aged for about 18 months and has a distinctive nuttiness in flavour, made with vegetarian rennet this versatile cheese is a good replacement for a hard Italian cheese and yet can still be used as a table cheese.
Stoney Cross is Lyburn's most recent offering and is named after an old World War II airfield close to the cheesemaker's dairy farm, which is located in the northern part o the New Forest at Landford.  The cheese has subtle flavours and a smooth texture.  Made from Lyburn's herd of Holstein-Friesian cows, the cheese is made from pasteurised milk and vegetarian rennet and is aged for four months.