Education Education Education' has long been a leading message for a succession of Governments over the last 50 years. In 2015 you just need to add the word 'Food' to be in keeping with one of the great issues of our time. The issues of healthy eating and the high levels of obesity and all the implications of it are never far from the front pages or the mouths of celebrity chefs and the medical profession.
Emsworth British Food Fortnight is keen to ensure that as well as celebrating Food and its Community; Education plays a leading role in the events and activities. From engaging with primary schools about the essentials of where food comes from, to facilitating the culinary development of our aspiring college students, as well as showcasing food and wellbeing at the brand new 'EAT! Healthy' event, food education is on course to be an integral theme for the Emsworth British Food Fortnight 2015.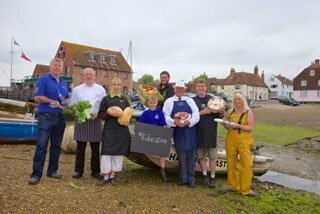 In partnership with Hampshire Farmers' Market, students from three primary schools: St. James', Emsworth and Westbourne will have the opportunity to meet local food producers and receive valuable, hands-on lessons in cooking:
"Hampshire Farmers' Markets want the next generation to grow up caring about what they eat and to know where their food comes from. Our aim is to get children interested in buying and cooking, local, seasonal and healthy food. This will improve the welfare and health of young families in Hampshire.'' – Alex Hanford, HFM Business Manager.
For a second year, the Brookfield Hotel will be welcoming across 3 separate days, students from Chichester, South Downs and Highbury Colleges to cater for a restaurant filled with paying, hungry and expectant customers. As they consider locally sourced ingredients, devise a 3-course menu and deliver it under pressure, the students are partaking in more than just a simulation of professionalism; this is food education at the sharp end.
The new event 'EAT! Healthy', taking place at the Baptist church on the 27th of September 10am – 3pm, will bring expert knowledge on nutrition into the heart of the community. Local producers and practitioners who are passionate about eating the right foods for wellbeing in the mind, body and soul will present talks, exhibitions and interactive workshops for young and old alike. It's completely free and as well as over 12 exhibitor's stalls to browse there will also be 3 talks during the day –
Dr Sam Watts: 'Natural Nippers', the wholesome way for children. Children are constantly being exposed to a variety of toxins in their diets. How to improve your child's nutrition with alternative recipes and resources.
Denise Kelly: Easy energetic empowering juicing. Juicing and smoothies are a fantastic way to keep your energy levels high all day long.
Kathy Adams: Weight Loss and Body Confidence. Our body-mind-emotion connection affects our wellbeing including what and how we eat, it sabotages our ability to maintain our ideal body weight –learn more.
With a range of cooking classes and demos available across the fortnight, food education is available to everyone during the British Food Fortnight 2015.