The winners of this year's Hampshire Farmers' Markets Producer Awards have been announced at a special ceremony at the Brookfield Hotel, Emsworth.
The awards evening took place on Thursday, 22nd September as part of the celebrations surrounding British Food Fortnight from 17th September to 2nd October.
Now in their seventh year, these are the only food awards in the county where the outcome is entirely down to the public vote.
The awards were hosted by guest presenter Andy Mackenzie, Executive Chef at the Exclusive Chefs Academy in Hampshire. Following a celebration dinner for the nominees and winners, Andy gave out the trophies to the producers coming out top. "It was a wonderful evening," said Andy. "We had fabulous food and dined with fabulous company. All of the nominees were excited to be part of the awards and the surprise on all the winners' faces was a picture. I was touched to be asked to part of the night's celebrations and wish all the best to Hampshire Farmers' Markets members for the coming year."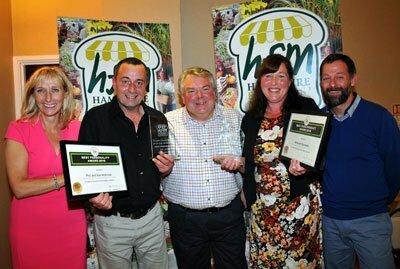 Winners of the Best Food Product were Ambrose Sausages based in Eastleigh. On receiving their award, Sue Ambrose commented: "We are beyond thrilled to win this award, especially as we were up against some truly deserving competition. We couldn't have done this without the vote of confidence from our loyal customers, so we'd like to say a huge thank you to all who nominated us. Our aim is always to give people good, fresh, flavoursome, ethically-produced food that they can trust."
Sue and Phil were also surprised to win a second award on the evening, this time for Best Personality: "We can't believe it. Selling our produce at Hampshire Farmers' Markets is very core to the success of our business and we truly enjoy being there. Hampshire Farmers' Markets provide great selling opportunities for us and actively promote and support local farmers and their products," said Phil.

The award for Best Drinks Producer was Mash Brewery near Winchester. On receiving their award, brewer and co-owner Graham Turner said: "It's a great honour for Mash Brewery to win a Hampshire Farmers' Market Producer Award. It's fantastic to have this level of recognition and support from our customers across Hampshire".
"The brewery is only three years old and to achieve this in such a short space of time is wonderful for all of us connected to Mash. This award will hopefully act as a springboard for future success for our range of beers."
"We feel very privileged to receive this," said Nick Casey of Broughton Water Buffalo, who won the award for Best Hot Food to Take Away. "It's a great reward for the effort we put into natural farming and finding a happy home / tummy for our products. Thank you to the fabulous team at Hampshire Farmers' Markets for providing us with the platform to trade from."
This year's Outstanding Contribution Award (as decided by the HFM board of directors) went to Secretts in Farnham. "The team at Secretts always go that extra mile to engage with the customers at our markets," said Alex Handford, Business Manager at HFM. "Their stall looks fabulous and always attracts attention. They definitely deserve this award for their efforts."
On accepting the award, Nicola Secrett said: "We are delighted to have won. We work really hard with our dedicated team to serve the community with fresh homegrown produce through the farmers' market network. The relationship we have with HFM and other market organisations is fundamental to our continued success. Our business is all the better for it."
Alex concluded: "Our awards are a great way for our producers to celebrate their achievements throughout the year and the appreciation they get from our market visitors. There was great response from the general public in 2016, which bodes well for the event next year."
Hampshire Farmers' Markets runs a fortnightly market at Winchester, one of the largest in the country. There are also regular markets at Alton, Emsworth, Petersfield, Romsey, Ringwood and now Southampton and Odiham.