Claire Pitcher looks back over the last two decades of Hampshire Farmers' Markets and speaks to three of their producers, old and new.
It was on May 16th, 1999 that Hampshire welcomed its very first farmers' market on Middle Brook Street in Winchester. Francis Stokes of Hampshire County Council had been to Bath's market and decided, running alongside Hampshire Fare, that there should be a Hampshire farmers' market too. With a little help from Mike Smales of Lyburn Cheese and then councilor Mike Woodhall, Hampshire Farmers' Markets (HFM) was launched.
Three years later, in 2002, Hampshire County Council gave HFM independence and became a not for profit organisation.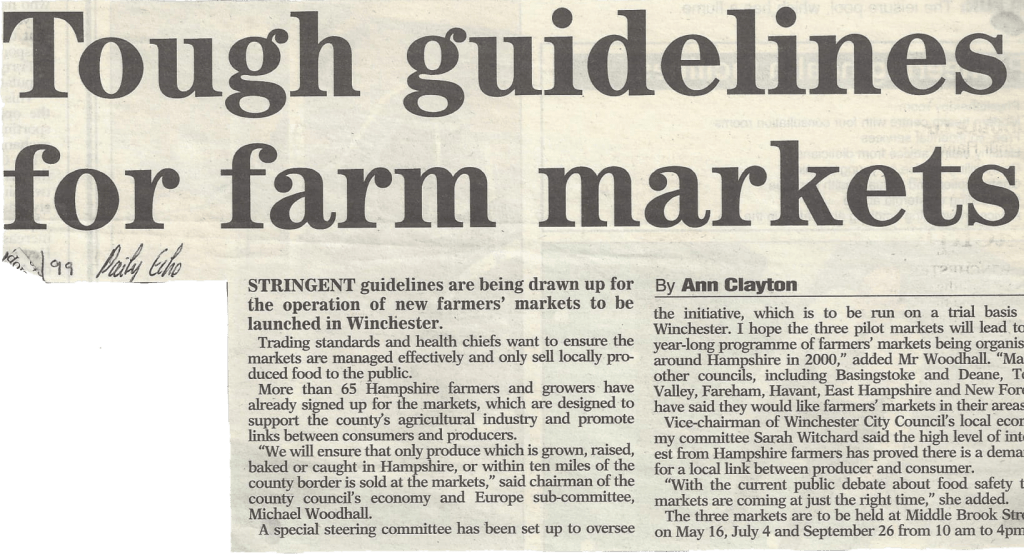 The same year, HFM became accredited by FARMA (Farmers Retail and Markets Association), giving their customers assurance that the markets were affiliated to an official and respected organisation. HFM still uses FARMA criteria guidelines today.
Changing markets
Twenty years on and the farmers' markets are still going strong. You can find them at nine locations across the county. There is one to visit every weekend of the month from Winchester to Southsea to Ringwood and Romsey. They also hold festivals throughout the year, with a special one this year on June 22nd at Leckford Farm Shop to celebrate their anniversary.
Some things have changed along the way however, as David Woodroofe, chairman of HFM explains: "Our challenges are the same as those of the High Street, as that is where our markets operate in the main. Longer term the concern is that people will get out of the habit of visiting their High Street and our markets."
But the ethos of HFM hasn't changed over the last two decades and people still love to get up early on a weekend to pay a visit. As David points out: "It is only at market will you have the chance to meet the actual person who baked your bread, brewed your beer or made your sausages. The public's interest in how and where their food is produced has never been higher."
Here are just three of the producers who are HFM members. From Tufton Smallholdings, who have been members since the very start, to their newest producer, A Basing Bakes…
Ambrose Sausages 2013 – 2019
Phil and Sue started their business in 2011 with just four pigs and a 100-year old family sausage recipe. "Our aim was to bring back into production the very popular Ambrose sausage made originally by Phil's grandfather Gilbert from his butchers shop in Westbourne, near Emsworth, and to produce it using our own pork."
Phil and Sue joined Hampshire Farmers' Markets in 2013: "We felt that becoming members of Hampshire Farmers' Markets was a perfect way for us to take our product to the consumer as the markets represented everything that we were about, being local, excellent quality and ensuring provenance."
They now keep a rearing herd of approximately 60 native breed pigs and have increased their range of products over the years to include just about everything you can produce from a pig. "Our Gilbert's original sausage is still one of our best sellers, however we now produce a vast range of speciality sausages, dry cured bacon, free range pork and in recent years a range of award winning charcuterie."
Being centrally located in Hampshire you're never far from a farmers' market. Sue and Phil were lucky enough to trade at the very first in Emsworth. However there have been plenty of challenges facing the county's producers over the last 20 years: "There's been an increase in supermarkets and their extended opening hours, the opening of farm shops and food festivals popping up throughout the county. There have been massive advances in technology and 20 years ago social media was still in its infancy." Being at the markets is still a major part of Ambrose's business and means they will keep growing and bringing their delicious produce to Hampshire shoppers. "We plan to increase our charcuterie range, as this is becoming an increasingly popular side to our business. We hope that HFM will find new venues throughout the county and that local communities will continue to support them."
Find Ambrose Sausages at Winchester, Emsworth, Southsea, Petersfield. In 2019 they will also be in Romsey and Alton.
A Basing Bakes, 2018 – 2019
Becoming a member of Hampshire Farmers' Markets was something Helen Lang of A Basing Bakes in Basingstoke wanted to do since she set up at the end of 2012 and finally got around to it last year: "I always felt that supporting other local suppliers was important. The ethos of these markets is very important to me, but also HFM opens up new and exciting events for me to be part of. I'm so pleased to bring gluten free baking to market."
Helen's been baking for a living for around 17 years and it was her friends and family who told her to set up on her own: "I realised that the gluten free area was very poorly supported. That is when I started to play around with new flours and ingredients. I wasn't prepared for the response though. The demand was huge."
As one of HFM's newest members, Helen has only been to a handful of markets so far:"They have all been really good for me, I found the second time that I was at Winchester I had customers coming back to find me, which was very encouraging.
"I'm also looking forward to Romsey, Petersfield, Alton and Ringwood as well as being part of the Watercress Festival, The Leckford 20-year celebrations and Hamble Food Festival."
Tufton Smallholding, 1999-2019
Jane Huxford and husband John moved to Tufton in November 1998 from Fleet. "Previously I had sold cakes and preserves and plants at WI Country Markets, village shops and a garden centre, so the Farmers' Markets opened at just the right time for selling in a new area," she says.
As one of HFM's long-standing members she's been at practically all the market locations at some point over the last 20 years, but it's at Winchester and Petersfield where they've built up their loyal customer following. As well as their preserves, Jane also sells plants and pure wool throws, hand-knitted hats and gloves. If there's one thing Jane's noticed it's that: "It's essential to watch the trends in food, fashion and even gardening so the market keeps up to date and is vibrant. Hampshire Farmers' Markets certainly isn't stuck in its ways."
Like many of the producers at the markets, Tufton don't have a farm shop and are certainly off the beaten track, so being at the markets is like a shop window for Jane. With new lines in preserves, new styles in hats and gloves and more varieties of vegetable plants ready to go to market this year Jane's hoping these will keep the customers coming to Winchester and Petersfield. As to the next 20 years: "If you're thinking of becoming a member, I would definitely recommend it as talking to customers directly often throws up new ideas and, as with past stall holders, it can provide a stepping stone to expansion."