Having been postponed earlier in the month due to the snow, local butchers and producers finally gathered at Rownhams House and Gardens on Thursday 15th March for the much-anticipated results of the Great Hampshire Sausage and Pie Competition organised by Hampshire Fare.
This year's competition attracted a record-breaking 261 entries from 46 butchers across 12 categories which were all judged by a panel of national judges. The categories included Traditional Pork Sausage, Black Pudding, Hot Pie, Speciality Sausage, Home-cured Bacon, Cold Pie, Young Sausage Maker and Traditional Pork Pie.
Judging took place in February at Eastleigh College with the assistance of staff and students from the college's hospitality and catering department. Tracy Nash, Commercial Manager of Hampshire Fare commented: "The judges were extremely positive about the quality of this year's entries. Many of the judges have been involved in this annual competition for several years and were able to notice a real improvement in the standard of the products entered. Our butchers and producers did Hampshire proud."
Guests gathered at the wedding, events and office space, Rownhams House, where they were treated to sausage and pie themed canapés prepared and served by Vanilla Catering. The awards were hosted by BBC South Business Correspondent, Alastair Fee, who is an avid follower of Hampshire's local food scene.
The winners across all 12 categories were announced first and invited to the stage to receive their trophy.
Home-cured bacon Champion 2018 & Hampshire Charcuterie Champion 2018
Ambrose Sausages, Bishopstoke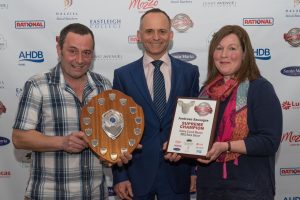 Meatballs & Faggots Champion 2018
Greenfield Pork, Andover
Pork Faggots
Hot Pies Champion 2018
Mud Foods, Midhurst
Steak and Ale Pie
From these category winners just one product was singled-out by the judges as the very best entry across the whole competition. The Supreme Champion 2018 was presented to Ambrose Sausages for their BBQ Back Bacon. Owned by Sue and Phil Ambrose, who rear their own pigs as well as producing award-winning products, the business is located near Bishopstoke but trades across the county and online.
Sue Ambrose commented on their success: "We are overwhelmed, surprised and delighted! This year we entered some of our newest products, mainly to test ourselves and also for the expert feedback from the judges. To win in two categories and also overall is just brilliant. We know our customers have been rooting for us, we look forward to sharing our good news with them!"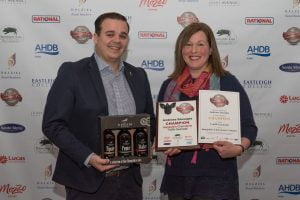 The event was sponsored by Lucas Ingredients, AHDB, Dalziel, Santa Maria, Rational, Eastleigh College and Mozzo. The competition was also supported by Vanilla Catering, Rownhams House, Danebury Wine, New Forest Water, Sunnyfields and Upham Brewery.
For a full list of Gold Award winners and other competition news, visit the Hampshire Fare website, www.hampshirefare.co.uk.
Image credit: The Electric Eye Photography.